Submitted by Greg Mofflin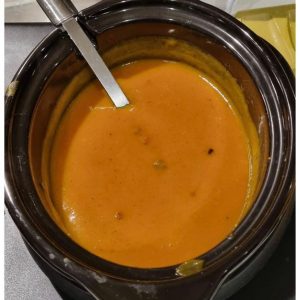 Pumpkin and bacon soup
Ingredients
1/2 Butternut pumpkin

1 small sweet potato

500 ml water.

1 tsp garlic granules

1/2 tsp sweet paprika

1 tsp mild curry powder

1/2 tsp mixed herbs

2 tsp chicken stock powder

2 rashers bacon diced

Sour cream to taste.
Instructions
Peel and prepare sweet potato and pumpkin.

Place all ingredients except bacon and Sour cream into slow cooker bowl,

Add enough water to not quite cover contents.

Cook on high for 3-4 hours or until veggies are cooked.

When cooked, remove about half of the liquid and set aside.

Blitz the soup, slowly adding sufficient liquid until smooth and a desired consistency.

Fry off bacon pieces until crispy, drain and add to soup.

Sour cream can be added to soup or to individual serving.
Notes
I used small portions to fit the 2.5L Westinghouse double pot slow cooker

Ingredients can be altered and quantities increased / decreased to taste.

I add the Sour cream to individual serving as my wife is not a fan.

Keeps well in fridge for a few days.

Don't forget the crusty bread.