Submitted by Kym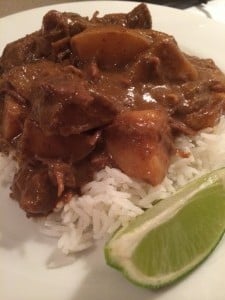 Massaman Beef Curry
Ingredients
700g chuck beef, diced

4 potatoes, cut into rough chunks

1 onion, roughly cut

270ml can coconut milk

270ml coconut cream

1/4 cup Massaman curry paste (I like the Aldi brand!)

2 bay leaves

6 cardamom pods, bruised

1 cinnamon stick

2 Tblsp brown sugar

1 Tblsp fish sauce

Fresh lime
Instructions
Put cut potatoes, cut onions & beef into slow cooker.

In a fry pan, pour in coconut cream & coconut milk, cook stirring until it starts bubbling.

Add curry paste & work in to get rid of the lumps.

Add bay leaves, cardamom pods & cinnamon stick & cook until fragrant.

Pour mixture into slow cooker.

Cook on low for 7-8hrs or high for 4-5hrs (I have a 6L sc).

Once cooking is finished, stir in brown sugar & fish sauce.

Add more brown sugar or fish sauce if needed to adjust to your own taste.

Serve with steamed rice, naan bread & make sure you squeeze some fresh lime over it to finish off the flavour.