Submitted by Donna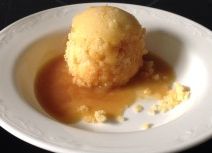 Maple syrup self saucing pudding
Ingredients
1 tablespoon butter

1 egg

3/4 cup sr flour

1/4 cup sugar

1/3 cup of milk

1-2 tablespoons maple syrup (for each mug)

1 tablespoon boiling water (For each mug)
Instructions
Grease mugs well with butter.

Put maple syrup and boiling water in each mug.

Mix all pudding ingredients together and fill mugs 1/2 full in each mug (depends on size of the mug)

Put 1 cup boiling water in side slow cooker then put mugs in.

Cook on high for 45minutes (depending on sc) with tea towel.

You can double or triple the recipe to make a larger batch. You would also be able to make one large pudding instead of mugsbut you may have to adjust cooking times.

Try experimenting! You can make many different flavours for the pudding. Substitute the maple syrup with chocolate sauce, brown sugar or even coffee. The ideas are only limited by your imagination! Happy cooking!!!