Submitted by Kellie New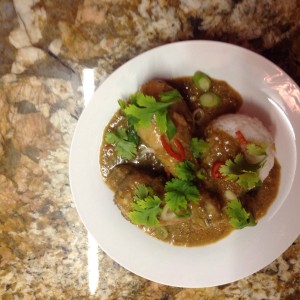 Mango Chicken Curry
Ingredients
2kg of drumsticks. Would have otherwise used chicken thigh.

Can of coconut cream

2 packets French onion soup mix

Jar of mangoes in nectar (I used the nectar as well)

3 garlic cloves minced

1 tbsp ginger

1&1/2 tsp red curry paste

Shallots & chilli
Instructions
Place chicken in slow cooker.

Sprinkle shallots, chili & mango pieces over chicken.

Mix all other ingredients together and add to slow cooker.

Cook on low for 4-6hrs

If more spice is wanted, add more red curry paste.

I also added a little salt and brown sugar at the end to taste and thickened sauce with a bit of cornflour. Served with rice and naan bread.