Submitted by Paulene Christie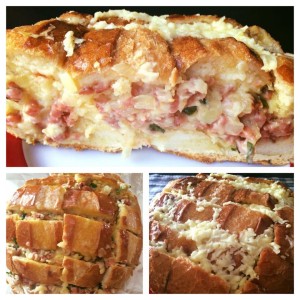 Loaded Cheese & Bacon Cob Loaf Pull Apart
Ingredients
1 x Crusty cob loaf (450g)

1 onion diced

200g diced bacon

2-4 cloves of garlic (vary to your taste preference - I used 4 because we love garlic)

25g + 100g butter

1/2 cup fine sliced shallots

130g + 100g grated tasty cheese
Instructions
Take cob loaf and make 5 cuts across the loaf. Cut almost down to the bottom but NOT all the way through.

Turn loaf 90 degrees and make 3 more cuts in the opposite direction to the first 5. You'll then have a checkerboard type pattern of cuts.

In a small fry pan cook onion, garlic and bacon in 25g butter for 5-10mins or until onion is translucent and bacon lightly cooked.

Transfer this mixture to a bowl and add and stir through the shallots and the 130g grated cheese.

Take two long sheets of aluminum foil (approx 60cm each) and lay them cross wise over each other on the bench to form an X shape and place the cob loaf in the middle of this X.

Take the mixture and carefully spoon it into all the cuts of the cob loaf to fill them with mixture.

Melt 100g butter in microwave and pour over and in the cracks of the cob loaf.

Top with remaining 100g grated cheese.

Wrap up both sides of foil to securely wrap the loaf.

Place in a slow cooker and cook on HIGH for 2hrs.

Unwrap carefully as it will be hot. You may wish to brown in oven for a few minutes if you like but we don't bother to.

Serve and pull apart chunks of loaf loaded with cheesy garlic and bacon filling.

SOOOOOOO good and great for your next party or function - you'll be a hit if you arrive with this loaded loaf!