A classic!
Submitted by Lorraine Barber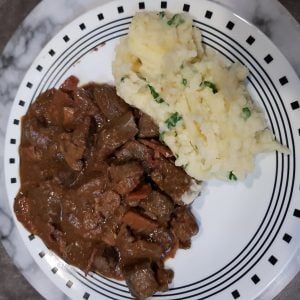 Lambs Fry and Bacon
A classic!
Ingredients
2 Whole Lambs Fry

6 Rashes Bacon Sliced

1 Onion Sliced

6 Mushrooms sliced

1 PKT French onion soup mix

1 Cup Beef Stock

2 Garlic Cloves Crushed

Splash of Worcestershire Sauce

Salt & Pepper

1/2 Cup Flour
Instructions
Soak Lambs Fry in Milk for 1 hour(personal preference)

Fry off Bacon,onion & mushrooms then add to S.C.

Slice Lambs Fry and add to Flour with 1/2Pkt french onion soup mix,Salt & Pepper.

Fry off the Lambs Fry for a couple of Mins.Then add to S.C

Mix other 1/2 half of French onion soup mix with the beef stock & Worcestershire sauce.

Add to S.C and give everything a stir.

Cover with Lid and cook on Low for 4 Hours.

I soaked the Lambs fry in milk for 1 hour but this step is not essential. Personal preference. It just helps to tone down the strong flavor you can get from Liver.