Submitted by Paulene Christie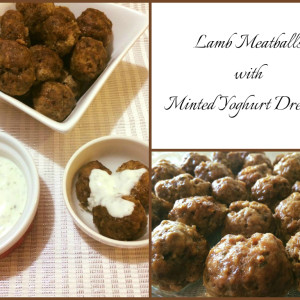 Lamb Meatballs with Minted Yoghurt Dressing
Ingredients
Meatballs:

500g lamb mince

1 tsp minced ginger

2 tsp minced garlic

1/2 an onion grated

1 tbsp mint (finely cut or I used the tube paste version)

3/4 cup fine breadcrumbs

1 egg

1 Vegetable stock cube (I prefer Massel brand) dissolved in I cup of boiling water

Dressing:

200g tub of natural yoghurt (I used reduced fat but regular if your prefer)

2 tsp fresh lemon juice

1 tbsp mint (finely cut or I used the tube paste version)
Instructions
Combine lamb mince, ginger, garlic, onion, mint, breadcrumbs and egg in a bowl and using clean washed hands mix thoroughly then form into golf ball sized meatballs.

Meatballs can be made the night before and stored in fridge in a single layer in sealed container overnight if you prefer.

Lightly spray base of slow cooker bowl with non stick spray

Gently place meatballs into slow cooker

Pour over vegetable stock liquid.

Cover and cook on low for 3hours

Try not to move or turn meatballs, if at all, until they are fully sealed so as not to break them.

I turned my meatballs gently after 2hrs and found the finished meatballs stayed firm, in shape and intact.

To make dressing combine yoghurt, mint and lemon juice and mix well.

Drizzle over meatballs or serve on side in serving dish.

Great for parties!