If you like jersey caramels, you need to try jersey caramels fudge 🙂
Submitted by Amanda Traeger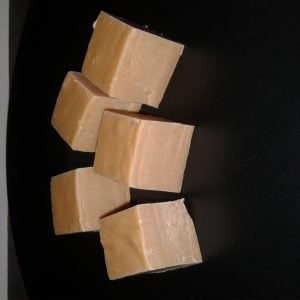 Jersey Caramel Fudge
If you like jersey caramels, you need to try jersey caramels fudge 🙂
Ingredients
2 x packs of 225gms Jersey Caramels sqaures

2 x packs of 290gms white chocolate melts

1 can 395ml Sweetened condensed milk
Instructions
1. Cut the jersey Caramel squares into quarters, this will help melt the Caramels easily.

2. Pour all ingredients, jeresy Caramels, white chocolate and condensed milk into slow cooker.

3. Cook on high for 1.5 hours stirring every 15-20minutes, until caramels are melted and crust is forming on the top.

4. Pour into a square baking tin, lined with baking paper and chill in the fridge overnight.

5. Cut into 2cm squares and enjoy!