Submitted by carrie mckenna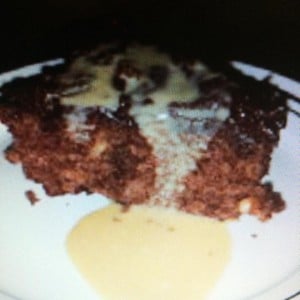 Hot Fudge Sundae
Ingredients
1 cup of all purpose flour

1/2 cuo granulated sugar

2 tablespoons baking cocoa

2 teaspoons baking powder

1/2 teaspoon salt (sea not table)

1/2 cup of milk

2 tablespoons veg oil

1 teaspoon vanilla

1/2 cup chopped nuts

Chocolate sauce

3/4 cup brown sugar

1/4 cuo baking cocoa

1 1/2 cuos hot water
Instructions
Mix all ingredients in a bowl.spray sc with oil, add mixtre and spread evenly.

Pour over sauce mixture cover and cook.

2 - 2 1/2 hrs on medium heat

Cake will be ready when tooth pick runs clean.

Dont panic as chocolate sauce will be under the cake mixture.

Serve warm with cream, ice cream and enjoy.