For Latte Lovers! Smells and tastes of coffee and hazelnut. Nailed it!
Submitted by Kerry Staehr.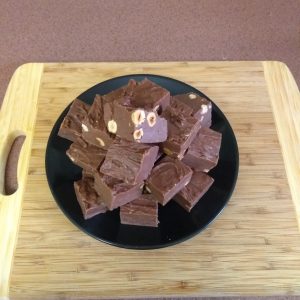 HAZELNUT LATTE FUDGE
For Latte Lovers! Smells and tastes of coffee and hazelnut. Nailed it!
Ingredients
2 x Cadbury Hazelnut Chocolate Blocks (400g)

1 x Block of Plain Cadbury Dairy Milk Chocolate (200g)

1tbsp of Butter

1 Can of Sweetened Condensed Milk

4 x Satchets of Nescafe Hazelnut Latte
Instructions
Made in the 1.5ltr adesso cooker.

Break up all the chocolate and put into the slow cooker.

You can sprinkle the coffee satchets over the chocolate peices as you layer them.

Add the butter and sweet condensed milk to the pot.

Set slow cooker to LOW and leave the lid OFF.

Stir with a metal spoon about every 15-20 minutes.

The coffee powder will dissolve into the mixture as it melts and warms up.

It will take approximately 90 minutes till it is ready and forms a crust/skin.

Pour fudge mixture into a tin or dish lined with baking paper for easy removal.

Put tin/dish into the fridge for about 3-4 hours then take it out and slice the slab into peices while it is still soft but firm.

Place peices into a container and return to the fridge for further setting. Best set overnight.
Notes
I found using 4 satchets of Nescafe Hazelnut Latte in this recipe, gave me the desired coffee and hazelnut flavour. You can experiment with different coffee satchet flavours and add less or more individual satchets for a stronger or lighter coffee flavour, or to taste.