This is a very large serving – approx. 10 people when served with noodles or rice or potato etc
Submitted by Belinda George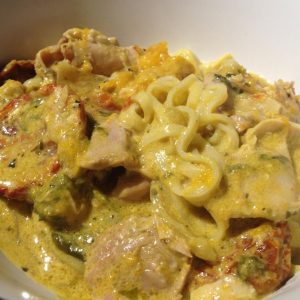 Creamy Pumpkin and Sundried Tomato Chicken
This is a very large serving – approx. 10 people when served with noodles or rice or potato etc
Ingredients
12 skinless chicken thighs cubed

300g sundried tomatoes

120g baby spinach roughly chopped

2 medium onions sliced

¼ kent pumpkin, large cubes

4 cloves of garlic crushed

300ml cream

200ml sour cream

250g philly cream cheese cubed

2tbs coconut oil

1tsp turmeric

1/2tsp cinnamon

2tsp dried basil

1/2tsp grated ginger

1 punnet cherry tomatoes whole

Salt while cooking, pepper at the end

Fresh basil leaves at the end
Instructions
Add all ingredients excluding the fresh basil and pepper into the slow cooker and cook on high for 1 hour

Turn on to low for 5hrs, stirring a couple of times.

I served with pad thai noodles which I soaked in boiling water for 8mins then mixed into the pot.

This is a very large serving – approx. 10 people when served with noodles or rice or potato etc.