Submitted by Frankie Raines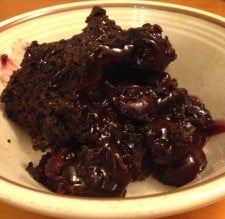 Chocolate Cherry Cake
Ingredients
1 packet of Chocolate cake mix (plus ingredients stated on the packet)

2 x tins cherry pie filling
Instructions
Empty the tins of cherry filling into the slow cooker insert, saving some of the sauce.

Make up the cake mix as directed on the packet and add the reserved cherry sauce.

Pour the cake mix on top of the cherry filling.

Cook on high for 2 hours with a tea towel under the lid.

Serve with vanilla ice cream or whipped cream.