This is easy to make and is so delicious.
Submitted by Ange Marie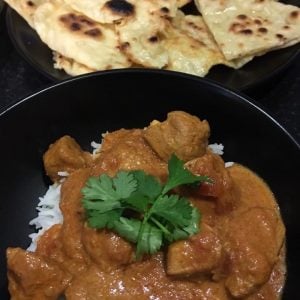 Butter chicken
This is easy to make and is so delicious.
Ingredients
3 tablespoons butter

1 tbsp. vegetable oil

1 large onion, peeled and chopped

700g chicken breast (approx. 4 large chicken breasts), diced

4 cloves garlic, peeled and minced

1 large piece of ginger (about the size of your thumb), peeled and finely chopped

1 tsp salt

1.5 tbsp garam masala

1 tbsp curry powder

1 tsp paprika

1 tsp cinnamon

1 cup chicken stock

2 tins (400ml) of chopped tomatoes

2 tbsp tomato puree

2 tsp sugar

6 cardamom pods (sew them together with a piece of string so you can easily fish them out later)

175ml or ¾ cup double/heavy cream

Handful of chopped coriander to serve
Instructions
Preheat your slow cooker to high.

Heat the butter and oil in a large pan, add in the onion and chicken and cook for 5-6 minutes until the onions are softened and the chicken is sealed.

Add in the garlic, ginger, salt, garam masala, curry powder, paprika and cinnamon. Stir and cook for 1-2 minutes. Add in the stock, tinned tomatoes, tomato puree, sugar and cardamom. Stir then pour into your slow cooker and cook for 4 hours on high or 6 hours on low.

Remove the cardamom then stir in the cream and allow to heat through.

Serve with rice, sprinkled with some coriander & some naan bread on the side.

You can freeze this. Instead of cream you can use coconut cream.