Submitted by Lynette Drohomyretskyy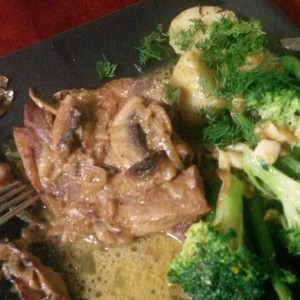 Braised Pork Loin Chops
Ingredients
4 pork loin chops

Ground coriander

Turmeric

salt and pepper

5 bay leaves

1 onion, sliced

5 mushrooms, sliced

1 tablespoon butter

1 tablespoon olive oil

1/2 cup stock

1/2 cup sour cream
Instructions
Caramalise onion and mushrooms in frypan, place in slow cooker with bay leaves.

Coat chops with seasonings, brown in frypan then add to slow cooker.

Drain fat from frypan but don't clean off the caramalised remains, bring stock and cream to boil in frypan then pour this sauce over chops.

I cooked mine on high in my small slow cooker and it was ready after 1 and 1/2 hours.

Perfect timing with my baby's afternoon nap time! Very tender and tasty.