This dish is hearty and full of flavour perfect for the cold weather !
Submitted by Jarrah King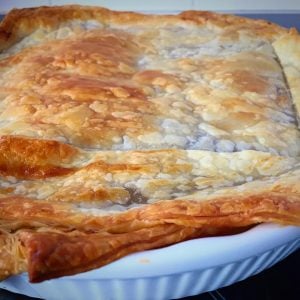 Beef and Beer Pie
This dish is hearty and full of flavour perfect for the cold weather !
Ingredients
600g diced beef

1-2 carrots peeled and grated (if you serving as a casserole and not a pie no need to grate carrot just slice it)

2-3 small mushrooms diced

1x brown onion peeled and diced

1/2 cup corn flour

4tbs tomato sauce

2tbs Worcestershire sauce

1x cup of beer

2x cups of beef stock

1tsp thyme

1tsp parsley

3tsp minced garlic

2x bay leaves

Salt and pepper

3 sheets of puff pastry

1x egg

2tbs oil

Your favourite gravy powder (I love using Brown Onion Gravox Powder for this dish)
Instructions
Coat beef with corn flour and using a sauté pan with a little oil cook in batches, you just want to brown the beef slightly.

Place all ingredients in your slow cooker and cook for 6-8 hours on low or until beef is really tender.

Preheat oven to 180 deg (You will want to turn your oven on about an hour before your beef is ready)

Prepare your pie dish by coating it with butter or oil.

Place a sheet of pastry on the bottom of your dish if you have areas that are not filled use your other sheet of pasty to fill it in.

Using a fork prick the pastry in your dish all over.

Crack an egg into a bowl and whisk it and then using a pastry brush to coat your pastry.

Place your dish into the oven to pre bake for 10 mins or until lightly golden.

When your beef is almost ready thicken it with gravy powder. Use 3tsps of gravy powder and mix it with 3tbs of water pour it in your slow cooker mix well and repeat till sauce is lovely and thick.

Take the bay leaves out of your slow cooker and spoon your beef casserole into your pre baked pie dish and cover with remaining pastry, brush the top with egg wash and bake again until its lovely, golden and crispy.
Notes
Even if your not a beer drinker (like me) you will still enjoy this dish make sure you chose a beer you can at least tolerate the taste of I like to use Cascade Draught or Pure Blonde. The beer taste is very subtle and just gives it a nice flavour and also helps make your beef extra tender. You don't have to make a pie with this meal it tastes absolutely amazing as a casserole served with a good mashed potato.