This soup is full of flavour and just what you need to warm your tummy during those cold winter nights
Submitted by Jarrah King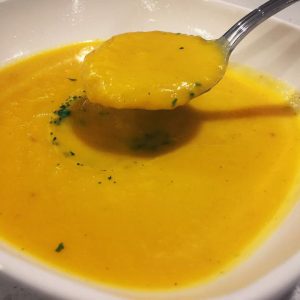 Moroccan Spiced Pumpkin Leek and Cauliflower Soup
This soup is full of flavour and just what you need to warm your tummy during those cold winter nights
Ingredients
1x butternut pumpkin peeled and chopped

1/2 cauliflower cut into florets

2x carrots peeled and chopped

1x leek cleaned and sliced

3tsp minced garlic

1tsp minced ginger

2x tbs butter

4-5 cups of stock (vegetable or chicken)

1/2 tsp thyme

1/2 tsp rosemary

1/2 tsp turmeric

2-3tsp cumin

1/2 tsp paprika

Garnish with coriander (optional)

Season with salt and pepper
Instructions
Step 1 (this step is optional you can add all the ingredients without sautéing leeks first)

In a sauté pan add the leeks and butter and sauté till lee is tender then add the garlic and sauté for another minute.

Step 2

Pour the sautéed leeks into your slow cooker and add the rest of the ingredients and cook on low for 6 hours or until vegetables are tender.

Step 3

Blend until smooth (be careful as the soup will be extremely hot) and serve with some crusty bread and enjoy !