Submitted by Hannah Scott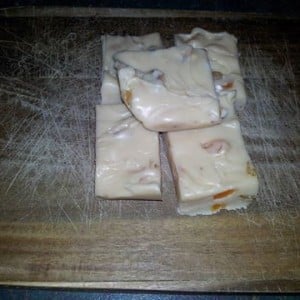 Apricot and Almond Fudge
Ingredients
2 x blocks white chocolate

1 tin sweetened condensed milk

300g jersey caramels

teaspoon butter

200g packet of dried apricots

1 small packet of blanched almonds (roast if desired)
Instructions
1) Roughly chop apricot and almonds into small pieces.

2)Line a tin with baking paper.

3) Chop jersey caramels into small pieces and heat slightly in the microwave (this will help them to melt faster in the slow cooker)

4) Place chocolate, condensed milk, jersey caramels and teaspoon of butter into the slow cooker. Melt together on low, stirring every 10-15 minutes. Once everything is melted and a crust is forming on the top the fudge is ready (this usually takes approximately 40 minutes- an hour).

5)Stir in chopped apricot and almond pieces.

6)Spoon the fudge mixture into the lined tin. Place in the fridge overnight to set. Enjoy.