Submitted by Katie Bramich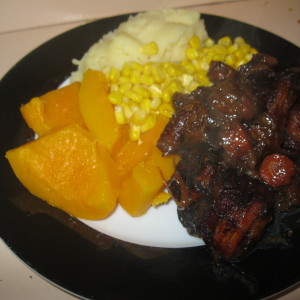 Lamb Casserole
Ingredients
1kg Lamb Chops

1 Pkt French Onion Soup Mix

3 Large, roughly chopped Carrots

1 Med, roughly chopped Onion

Water

Other Vegetables to serve
Instructions
Place chops in bottom of slow cooker. Add peeled and chopped carrots and chopped onion. Sprinkle French onion soup mix on top then pour enough water over, just to cover the chops.

Cook for 8 - 10 Hours on low.

To brown, put it on a tray and put in the oven for 30 mins - 1 hr in a mod. oven.

Serve with mashed potato, boiled pumpkin and corn.