Ambiano 3-in-1 Slow Cooker (Aldi)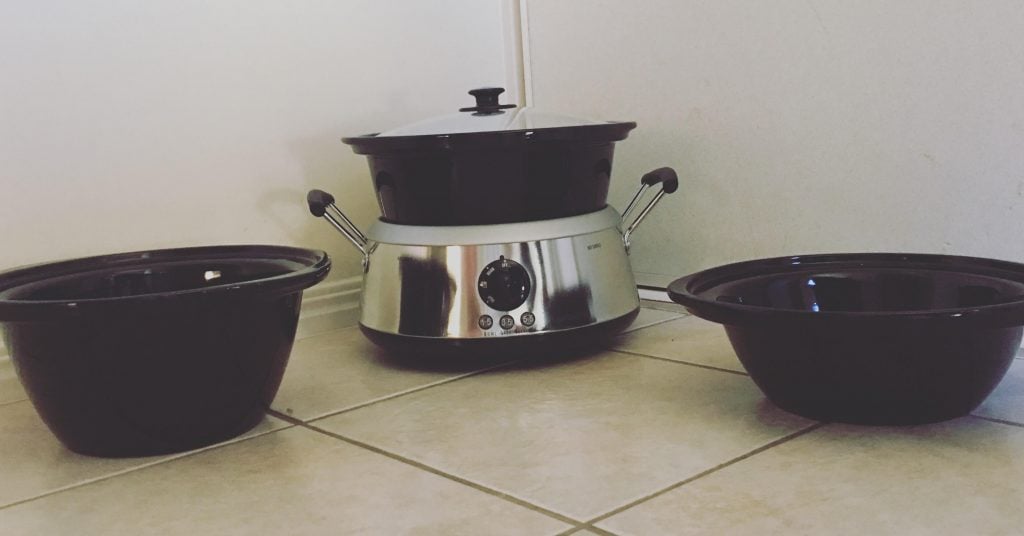 This Ambiano brand 3-in-1 Slow Cooker is quite the snazzy little system for slow cooking 🙂
At just $69 from Aldi Supermarkets it's also very affordable!
It's kind of like buying 3 slow cookers … but not 🙂
You get three cooking bowls but one base unit
So effectively you get 3 different sized slow cookers – but the single base of course means you can only use one at a time.
Still a great way to get a variety of cooking bowl options, and as I discovered tonight, it makes it really easy to literally go from cooking one recipe straight on to the next recipe without barely a pause …. and certainly without any washing up first (winning!)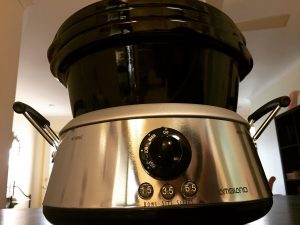 FEATURES 
The unit features 3 ceramic cooking pots
– 1.5L capacity
– 3.5L capacity
– 5.5L capacity
The capacity is also written on the bottom of each ceramic pot
The manual advises that the ceramic pots (but not the lid) are oven proof and microwave safe, but never heat when empty.
**NOTE** – This years updated manual now says NOT microwave proof so please check yours to be sure
One glass lid
One 300W electronic base with handles and pot size selection buttons and with all round heat distribution
Three temperature control options
– LOW
– HIGH
– WARM
You manually choose each option or to move between them by turning the dial
The Cooking bowls and lid are dishwasher safe or can be washed by hand but be sure they have cooled down before doing so
This unit comes with a 3yr warranty which is great for a machine in this price range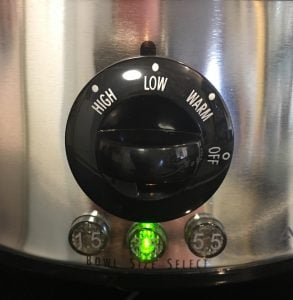 HOW TO USE
Simply choose the size bowl you need to use based on the size of your recipe
Place the bowl on the cooking base and once full place the glass lid on the bowl
Plug in the machine and turn it on
Using the dial turn the slow cooker onto the heat of your choice (high/low)
Then select the appropriate size bowl you are using from the green flashing size buttons on the machine
And you are away and cooking!
It's that easy 🙂
Keep warm is of course not to be used to cook food but to keep your cooked food warm
The manual also notes that 'if your cooking bowl is only half filled to check your recipe 1-2hrs before recommended time to see if it's cooked sooner'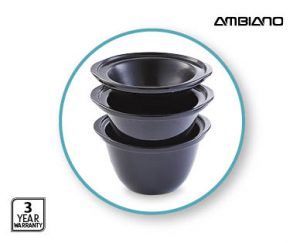 USER EXPERIENCE
It's been a while since I've used a ceramic bowl slow cooker so it struck me again how heavy they are, particularly when all three are stacked in the machine in storage.  Yet at the same time I thought the stacking of the bowls within each other on the base is a brilliant space saver when it comes to storing this unit.
The bowls sit quite high up above the base which gave me some concern to how they would heat/cook but I didn't need to worry … I found the unit cooked just fine to a standard cooking time 🙂
I cooked a savoury mince, a silverside and a cake in the three bowl sizes and all three cooked in the standard time which I expected them to.
The bowls and their contents heated up fast and held their heat well too!
The bowls cleaned easily by hand and by dishwasher also.
While the handles do have a rubber handle sections I would caution you against accidentally touching the metal part of these handles when gripping the rubber as like the base unit itself, they are quite hot and could burn!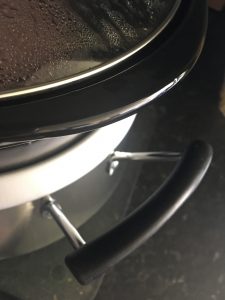 Overall though I would certainly feel comfortable recommending this machine to anyone considering buying one.  It's a nice looking cooking system and I find it cooks to standard expectations, with the unique convenience of 3 bowl sizes in one, the affordability of a budget machine and with the peace of mind of a great warranty.
I'm very happy with mine!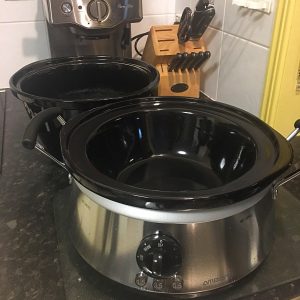 Happy Slow Cooking 🙂