Quick and easy soup recipe
Submitted by Jasmine Campbell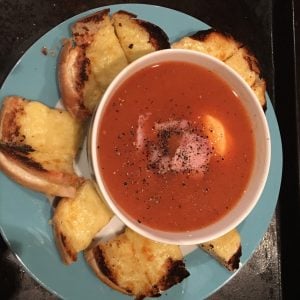 Tomato Soup
Quick and easy soup recipe
Ingredients
12 (or maybe more) tomatoes chopped

2 litres of chicken stock made from powder

1 tablespoon of dried basil

1 tablespoon of garlic

1 diced onion

Cornflour

Diced bacon

Sour cream
Instructions
Cooked on high for 6 hours. Drain some liquid if you want to. I didn't.

Then whizzed it all up with the stick blender.

I then added some cornflour mixed with a tiny bit of water to thicken a little bit. Whiz it up again.

Serve with a dollop of sour cream and fried diced bacon

(Pictured with cheesy toast)

Enjoy!