Submitted by Gail Burge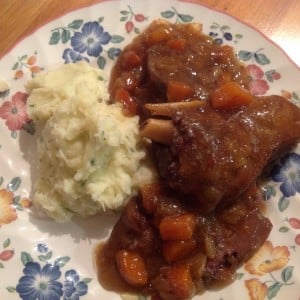 Slow Cooked French Onion Lamb Shanks
Ingredients
4 lamb shanks

1 brown onion

1 cup Beef Stock

1 pkt French onion soup mix

2 tablespoons tomato sauce

1 tablespoon Worcestershire sauce

2 carrots cubed.
Instructions
Place all in slow cooker

Cook on high for 4-5 hours

Leave lid off for last 15 minutes to reduce liquid.

Serve with cheese and parsley mashed potato's

4 potatoes boiled and mashed

1 handful tasty cheese

1 tablespoon finely chopped parsley

2 tablespoons thickened cream

Mix mix until smooth and creamy.