Submitted by Paulene Christie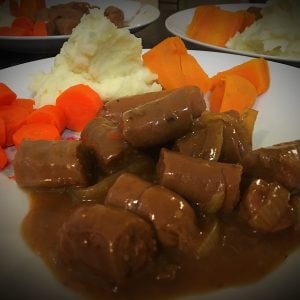 Sausage Obsession
Ingredients
12 thin beef sausages

1 x 420g can Campbell's Condensed Cream of Mushroom Soup (no water added)

1 x 40g Packet French Onion Soup Mix (dry)

1-2 Tablespoons Worcestireshire Sauce

1 Onion diced

1 Tablespoon Mint Sauce or Mint Jelly (Optional)
Instructions
Inspired by the original Lamb Obsession recipe - just using sausages.

Place sausages in slow cooker bowl

Add onion

Combine all other ingredients and pour over sausages

Cook on low for 4-5hrs approximately

*NOTE*

This does NOT taste like mushroom.

Even seasoned mushroom haters have been fed this without knowing and not one has detected the mushroom yet!

The mint is the mildest hint of flavour but if you really, really dont like it then just leave it out, it wont matter.