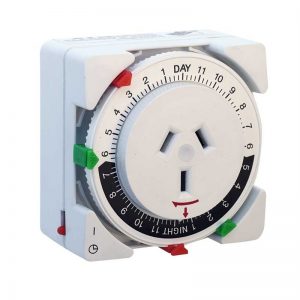 DON'T USE A DELAY TIMER WITH YOUR SLOW COOKER 
A lot of people think it's a good way to get longer cooking times from their slow cooker by using a delay timer in the power point to make the slow cooker come on at a later time than when they leave the house.
Several electricians have advised us they are NOT safe for slow cookers (they are intended more for lights, electrical equipment/machines etc NOT a slow cooker with a heating element) or the load that would put on them
Also using a timer means your food sits out on the bench for hours before it starts cooking breeding nasties
Or even worse after its cooked and it switches off completely 
Some I've seen advise others to start the recipe with frozen food to lengthen the time – Don't do this.
Check out our blog on this topic on our website blog page as to why… NEVER slow cook frozen meat
NOT safe :/
NOT worth the risk to your home or your family :/
You'll often even find it mentioned in your slow cooker manual just like this >>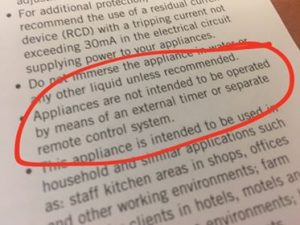 SAFE ALTERNATIVES:
Use a slow cooker with a built in timer. It will switch to KEEP WARM mode after cooking time, rather than turn it off, to keep your food at safe temps.  These keep warm modes are often limited to 2hrs in most cookers, 4hrs in others.
Use one of the recipes from our 8hr+ recipe category in the drop down category menu of our recipe page.
Some of those will go even longer 🙂
Use a FULL slow cooker to get longer cooking times without burning
Go for recipes like roasts, shanks, soups & silversides etc that cook longer on work days
Slow cook on days off rather then long work days
Choose larger cuts of meat/veg that take longer to cook
Add additional fluid to minimise drying out during cooking
If a recipe is on high you could convert it to one that cooks on low (assuming it doesn't need high to rise/bake etc)
Have your recipe ready and ask a family member to add it to the slow cooker and turn on for you at a later set time.
Check out our blog on 8HR+ slow cooking >> http://www.slowcookercentral.com/all-day-slow-cooking-recipes-8hrs/
And please … cook smart – cook safe
We have a lot of new members and beginner slow cookers and we do not want anyone to follow dangerous advice that could put them or their family at risk
We hope instead that we have given you all the safety information you need and the tips to overcome your problem in a safe method instead
Happy Slow Cooking!