Submitted by Jessie Hooper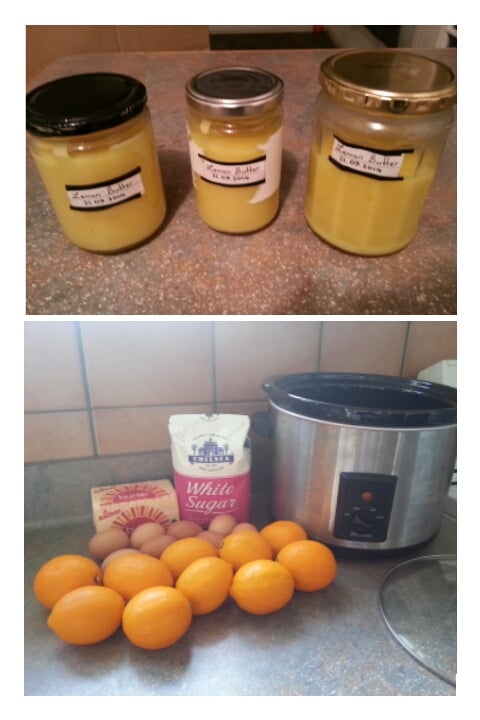 Lemon Butter / Lemon Curd
Ingredients
~ This ingredients List is Doubled ~ :

8 Eggs (whisked)

1 1/2 Cups of White Sugar

3-4 Teaspoons Finely grated Lemon Rind

1 Cup of Lemon Juice ( = about 7-8 lemons)

250g Butter
Instructions
Grate the lemon Rind first then cut and juice the lemons ( make sure there are no pips! ).

Crack 8 eggs into a bowl and whisk them.

Pour ALL ingredients into the slow cooker

Turn on High and constantly keep stirring until the Butter has completely melted.

Once melted, turn slow cooker onto Low with a Tea Towel under the lid and leave for 1 1/2 - 2 hours or until fairly thick.

Stir every 20 minutes or so

Once Lemon Butter is done, take the jars out of the oven and pour it in and put on the lid.
Let the jars COOL on the bench first - DO NOT put straight into the fridge or they will crack/explode.
Once completely cool, put into fridge and you're all done!!
Sterilising Jars:
Get some jars (about 3-4 for this recipe) wash them in boiling water, dry them, and put them in the oven at 100C for 10 minutes.

The lids of the jars you put in a pot of boiling water for 10 minutes not in the oven

Make sure this is the 10 minutes before serving so that the jars are still very hot when your pour in the Lemon Butter.

You can put Lemon Butter on anything like Toast, cakes, muffins, bread or just eat it out of the jar!

Good Luck everyone! Hope you enjoy giving it a go!!
(Remember this recipe is doubled, so just half all ingredients if you're wanting to do the single recipe)