In my role at Slow Cooker Central I am often asked about what features I love or recommend in a slow cooker.
My number one favourite slow cooker feature is a SEARING option 🙂
And the Sear & Slow One Pot Cooker from Crock-Pot is perfect for that job!
Crock-Pot believe serving nutritious, delicious, tender and affordable meals to family and friends should be easy.
Nothing is easier than a searing slow cooker as it not only saves you time, it saves you dishes and clean up too!  You get all the benefits of browning/searing without any extra mess!
Families looking to solve their mid-week meal dilemmas can use this cooker to prep food in the morning, even if it needs browning, then set the cooking temperature before they start their day, and come home to a delicious meal cooked at dinner time – so easy!
Features:

– Glass lid
– Removable 5L DuraCeramic cooking pot serves 4-6
– Heating base with wrap around element
– Programmable LCD digital control panel
– Cool touch carry handles for safety
– Time setting Display
– Temperature select button : Low, High and Keep Warm
– Timer up/down buttons
– Standby button
The Duraceramic Cooking Pot:

There are so many great features to this pot we need to spend a while visiting each one…
This cooking pot features a natural ceramic coating that has superior heat transfer which means faster cooking.
It's scratch resistant.
It's 4 times more durable than standard non stick coatings!
Crock-Pot advise that it's PTFE and PFOA free, so not only is it easy to clean it's safe for your family also.
Best of all the cooking pot is designed for use on all stove tops (including induction) and ovens.
It's even fridge and freezer safe.
This amazing versatility allows you to prepare food, slow cook food, store leftovers and reheat all using the same cooking pot!
How good is that!? 🙂
The Digital Control Panel:
– Plug your unit into the power then turn it on via the power button.  The screen will then illuminate for you so you know it's on.
– Use the temperature select button to choose high temperature (3 lines image) or low temperature (2 lines image).  A light will illuminate beside the one you have chosen on the digital display
– Press the timer up and down arrows to select your cooking time.  You can set this in 30 minute intervals, up to a maximum of 20hrs cooking time.
– When your cooking time has elapsed the cooker will automatically switch to Keep Warm mode (3 lines in a cup image).
– If you need to stop cooking before then just press the power button.
– Remember that keep warm is not for cooking your food, only for keeping already cooked food warm for serving.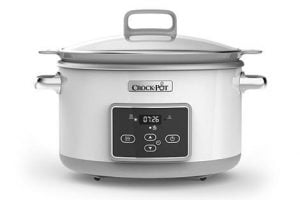 Care and Cleaning: 
The lid of this cooker is dishwasher safe but the cooking bowl should be hand washed to preserve its special coating.
The cooking bowl and lid are both oven and stove top (gas, electric, induction) safe but should not be placed in a microwave.
As always the base of the slow cooker should never be placed in liquid.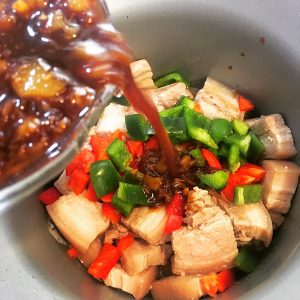 Each Crock-Pot includes a bonus 20 days of nutritious, delicious and effortless dinner recipes for the whole family.
You also get the peace of mind of a 12 month replacement warranty.
The CHP700 Sear & Slow Crock-Pot®  RRP is $159 and is available in all leading retailers nationally.
Happy Slow Cooking 🙂