Submitted by Paulene Christie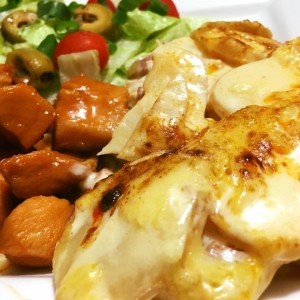 Creamy Potato Bake - with Chorizo & Bacon
Ingredients
850 grams of small washed potatoes, skin on (I used baby cream delights)

1 x small brown onion, thin sliced

100g diced bacon

100g diced chorizo sausage

2 tsp minced garlic

1/2 tsp cracked black pepper

500ml COOKING cream

1.5 cups grated tasty cheese

Sprinkle of paprika

Non stick cooking spray
Instructions
Spray slow cooker bowl with non stick cooking spray

Rewash your potatoes to ensure they are nice and clean. Leave skin on.

Slice the small potatoes thinly - if you cut them thick you will need to increase your cooking time to ensure they are cooked to tender.

Lay half sliced potatoes in the sprayed bowl.

Add think sliced onion rings, bacon and chorizo

Cover with second half of potato slices

Add garlic and pepper to cooking cream and mix well (see note below re cream)

Pour cream mix over.

Cook with

tea towel/cover

under lid for 2hrs high + 2.5hrs low (or 4.5hrs on auto).

30mins before serving time add cheese on top and a sprinkle of paprika then re cover it and continue cooking so cheese can melt.

(I use the paprika as it gives the look of browning - but you can finish it in the oven if you prefer)

Serve straight from slow cooker and enjoy 🙂

Note: Cooking cream is a pourable cream in the cream fridge of your supermarket that is less likely to split during cooking than regular cream.