Submitted by Angela Broyden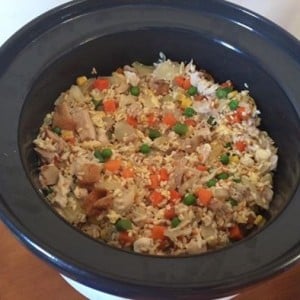 Chicken Fried Rice
Ingredients
2 Tablespoons oil

2 cups rice (uncooked)

2 cups chicken stock

1 onion, sliced

1 cup mixed veges

2 eggs

Left over roast chicken or Rotisserie Chicken from supermarket, cut up

Salt and Pepper to taste
Instructions
Fry rice in oil for about 5 mins to brown it. Place rice in slow cooker.

Add chicken stock to rice and turn slow cooker to high.

Fry onion till soft then add eggs and stir while it cooks. Add this to slow cooker.

Add mixed veges to the slow cooker and stir.

Lastly, add chicken and mix through.

Cook on high for approx. 2 hours with a tea towel under the lid.