Submitted by Paulene Christie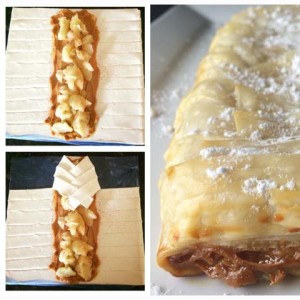 Apple & Caramel Plait
Ingredients
1 sheet of puff pastry

4 tbsp caramel (ready made or slow cooker recipe for this below)

1/2 cup canned cooked apple

Sprinkle cinnamon

Egg
Instructions
Line slow cooker with non stick baking paper.

Take 1 sheet of ready made puff pastry and using the point of a knife mark into thirds (don't cut, just mark)

Divide each outer third of the pastry square into horizontal strips approximately 2cm wide, cutting each strip through but leaving them attached in the centre. Your pastry sheet will now have ribbons on each side.

Spread middle third of the pastry with caramel (recipe to make your own here

Slow Cooker Caramel

)

Top with apple.

Sprinkle with cinnamon.

Next begin to plait your pastry by folding each ribbon over across the centre, one from the left, one from the right and keep going until your have reached the bottom and now have a plaited pastry parcel.

Whisk egg and brush some of this egg wash lightly over the pastry with a pastry brush.

Cook on HIGH for approx 70mins with tea towel under lid.

Dust with icing sugar to serve.