Submitted by Paulene Christie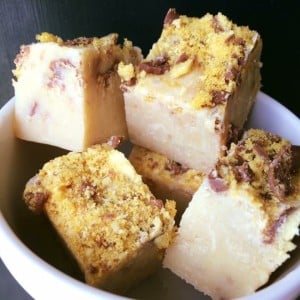 White Crunchie Dreams fudge
Ingredients
600g Cadbury white dream chocolate block

1 x 395g can sweetened condensed milk

1 tbsp butter

1 tbsp vanilla

8 fun sized chocolate coated Crunchie pieces (or use 1-2 full sized Crunchie bars)
Instructions
Place all ingredients except Crunchie pieces into slow cooker.

On Low lid off

Stir every 15mins or so for approx 90 mins.

Use a metal or silicone spoon to stir.

Smash/Crush Crunchie's into shattered small pieces.

I did so in a plastic bagand using a meat mallet - careful not to burst the bag while doing so 😉

Stir 2/3 of bag into fudge mix immediately before pouring it out, mix well.

Pour into a baking paper lined tray and pour another 1/3 of crushed pieces on top, press down slightly to fix them into the chocolate.

Refrigerate to set. I find overnight to be best 🙂

When set cut into squares and store in fridge.