Submitted by Patina Pearson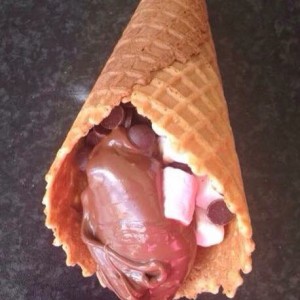 Waffle dessert cones
Ingredients
4 waffle comes

2 cups marshmallows - mini ones work best

2 cup chocolate chips

2 cups Nutella

Any other sweets/fruits/nuts of your choice
Instructions
Fill cones with marshmallows, chocolate chips, Nutella and any other fruits/sweets/nuts layering as you go.

Ensure cones are overflowing (the contents will melt once cooked)

Wrap each tightly in foil and place in slow cooker

Cook on high for 2 - 2 1/2 hours

Remove and carefully unwrap, leaving them to stand for a few minutes before eating (this allows the cone to firm up again and avoid burnt mouths!).