An indulgent chicken dish
Submitted by Karen Stuckings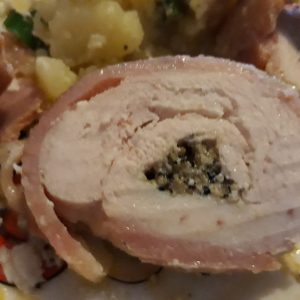 Truffle butter chicken
An indulgent chicken dish
Ingredients
2 chicken breasts.

4 rashers of middle bacon.

25 grams preserved truffles (jar)

100 grams butter.

Freshly ground black pepper.
Instructions
In a food processor place truffles and butter and blend.

Butterfly 2 chicken breast and cut so you have 4 pieces of chicken same size, can use the side of a meat tenderiser to flatten a bit if uneven.

Put 1/4 of butter one end of the chicken and roll up.

Wrap in bacon.

Place bacon wrapped chicken into slow cooker.

Season with pepper.

Cook 1 1/2 hours high.

Turn chicken.

Cook 1 1/2 hours high.

Plate chicken.

Strain butter that is left in slow cooker.

Tip a little over chicken.

Keep any leftover butter to use later, (within 2 days) it has a mild truffle taste so don't waste it.

Use on jacket potatoes or mash or anything you want really.

Cooked in Russel Hobbs 3.5L.