Submitted by Carla Johnson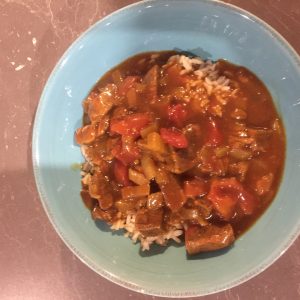 Beef Curry
Ingredients
700 grams rump steak - diced

1 brown onion - diced

1 teaspoon minced garlic

1 tin tomatoes

2 tablespoons red curry paste

1/4 jar rogan josh paste

500mls beef stock

1 teaspoon garam masala

1 teaspoon cumin

1 teaspoon Tumeric

Cornflour (to thicken)
Instructions
Put all ingredients into slow cooker (except cornflour)

Cook on low for 6-8 hours or until rump is tender and falling apart

If sauce is not thick enough when cooked, remove lid for approx half an hour and mix a little cornflour with water and add it.

Coconut milk can also be added to this recipe however I did not do that in this recipe.

You can also add Cardamon and coriander.

This can also be chicken curry. Just change the beef to chicken and swap the beef stock to chicken stock.

Enjoy!

This recipe was created by The Four Johnson's!