Submitted Paulene Christie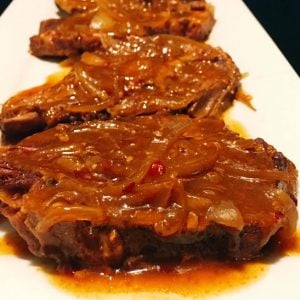 Sweet Chilli Pork Chops
Ingredients
Up to 6 pork chops (or less if you need less for your family)

1/2 cup sweet chilli sauce

1/4 cup hoisin sauce

1 tsp sesame oil

1 large onion, cut in thin strips

1 tbsp minced garlic

Optional: 1 tbsp cornflour mixed with enough water to form a paste to thicken your dish at end
Instructions
Place pork chops on base of slow cooker

Scatter onion strips on top

Combine all other ingredients and pour over

Replace lid and cook on low for approx 6hrs

If your sauce is runny at the end of cooking time, remove pork chops to serving plates, add cornflour slurry and increase heat to high, stirring for approx 5mins to form a thicker glossy sauce to pour over your chops.
Notes
We served ours with couscous and steamed Asian greens

You can alter the heat of the dish via the choice of your sweet chilli sauce (mild to hot). Our youngest who is under 3 enjoyed this dish with a mild sauce used.

You can change up the pork used to whatever pork cut/chop/steak you like or have on hand.

If you use low sugar sweet chili sauce (I love the Ayum brand for this) it fits into a LOW CARB eating plan, especially if you go easy on the sauce when plating 🙂

Enjoy!