Submitted by Paulene Christie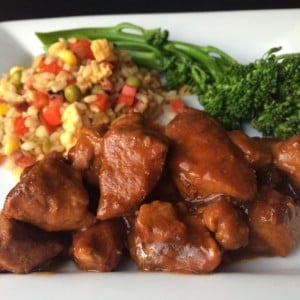 Sticky Teriyaki Chicken
Ingredients
1kg skinless chicken breast fillets, diced

2 tbsp. plain flour to coat

1 tbsp. oil

1/3 cup low sodium soy sauce

1/4 cup water

1/4 cup pineapple juice

2 tbsp. hoisin sauce

1 tbsp. apple cider vinegar

3 tbsp. honey

1.5 tsp. minced garlic

1 tsp. minced ginger

2 tbsp. cornflour + 1 tbsp. water combined to thicken
Instructions
Add flour and chicken to a large freezer bag. Leaving air trappedin bag, secure bag opening closedthen shake well and tossto coat chicken in flour.

Add oil to searing slow cooker, or frypan, and cook chicken long enough to seal and begin to brown it. Don't cook it completely. Approx 5mins on high heat should be plenty.

Move searing slow cooker back into the slow cooker base, or if using frypan then transfer chicken back into slow cooker.

Combine all other ingredients (except cornflour+ water). Pour over chicken.

Cover and cook on HIGH for 3hrs.

Combine cornflour + water to arunny paste. Gently stir it through the chicken and leave to cook for a further 5-10mins or until sauce is lovely and thick.

Served with fried rice and steamed broccolini.

Absolutely delicious!