Submitted by Valerie Fitzsimons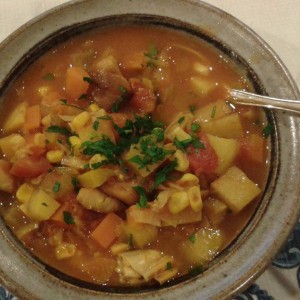 Spicy Fish Soup
Ingredients
230 g mixed smoked fish

120 g fresh perch

8-10 mussels

1/2 med onion

1 clove garlic

1/2 white part of a leek

1 carrot

300g kumera

1corn cob

1 small hot chili

1/4 tsp saffron threads

1/2 tsp paprika

1 cup chopped celery

400g can chopped tomatoes in juice

3/4 cup white wine

3/4 -1 cup vegetable stock (I used a cube)

Olive oil
Instructions
Cook the onion garlic and chili carrot chili leek and carrot in a splash of olive oil in a frypan until vege are soft but not brown. Add the paprika and cook slightly longer.

Turn slow cooker on high.

Dice the kumera and put it into slow cooker. Cook corn in husk in microwave for five minutes. Cut off kernels and add to cooker.

Add the wine to frypan and stir through.

Add to slow cooker with all remaining vege except for the fish.

Cook on high for 2 1/2 hours.

Check kumera for tenderness.

Once the kumera and carrot is cooked through it is time to add the fish.

Dice the fish into small bite size pieces. Cut mussels into thirds or quarters. Add all the fish and continue to cook on high until the raw fish is cooked through. About another 30 minutes.

Top with chopped Italian parsley.