Submitted by Karen Barwick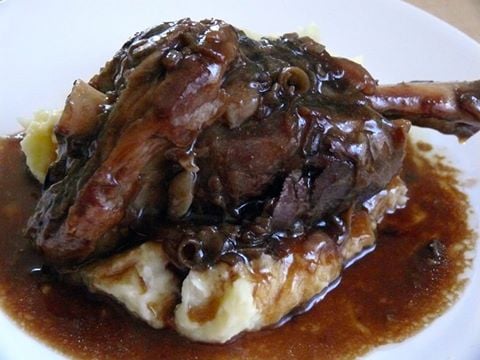 Slow Cooker Lamb Shanks In Onion Gravy
Ingredients
2 x lamb shanks

1 x onion

1/2 cup gravy powder (I use Maggi Rich Gravy Mix)

1.5 cups water

salt and pepper to taste

1-2 sprigs fresh rosemary
Instructions
1. Spray slow cooker base with cooking spray. Slice onion in half, one half slice in half rings, the other half dice.

2. Place the sliced half rings on base of slow cooker, then place lamb shanks on top of the onions.

3. In small saucepan, saut the diced onions (and yes I do believe it adds a depth of flavour to the dish to do this step, but of course it is optional). Pour these sauted onions on top of the lamb shanks.

4. In same small saucepan blend together the gravy powder and the water and season with salt and pepper if desired then pour this over the lamb shanks. No need to heat or cook this gravy, just blend it - just use the same saucepan to save dishes 🙂

5. Place your rosemary into the slow cooker.

6. Cook on HIGH 4-5 HRS or LOW 6-8 HRS.

7. Serve on a bed of mashed garlic potatoes.

Note: If you want to you can add 2 TBS of French onion soup mix to this but I prefer it simple.