Submitted by Simon Christie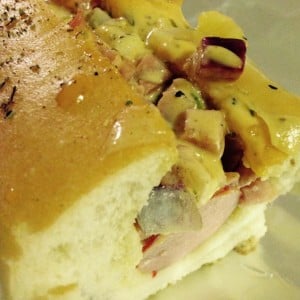 Slow Cooker Hot Dogs
Ingredients
Six long fresh bread rolls

Six weiners/frankfurts

Six 5 mm slices of your choice of block cheese

Half red onion diced

Handful diced bacon

Butter to spread (1 tbs)

Ranch dressing (or sauce if choice)

1 teaspoon Italian herbs.
Instructions
Slit lengthwise each roll and butter.

Place in weiners.

Sprinkle on onion and bacon to each insert.

Break up one cheese to each 'dog'

Place dogs into slow cooker and squirt ranch dressing into each dog slit.

Sprinkle herbs over the lot together.

Place on lid using tea towel under for 1 hour HIGH.