It's time to add another new book to add to your Slow Cooker Central recipe book collection! 🙂
After the phenomenal success of our first 6 books
Slow Cooker Central,
Slow Cooker Central 2,
Slow Cooker Central – Super Savers,
Slow Cooker Central KIDS,
Slow Cooker Central – Family Favourites,
Slow Cooker Central – Ready, Set, Slow

Australia's #1 best selling slow cooker book series, all loved and shared by so many on book shelves all over the world
We are thrilled to announce the next addition
Book 7 – Slow Cooker Central 7 NIGHTS OF SLOW COOKING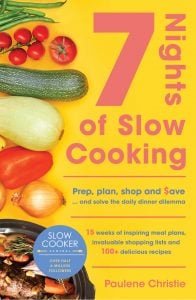 Prep, plan, shop and save $ … and solve the daily dinner dilemma
15 weeks of inspiring meal plans, invaluable shopping lists and over 100 delicious recipes
Never worry about what's for dinner again, and save your precious time – and money!
With the power of inspiring meal plans, invaluable shopping lists, prep hacks and storage tips, and delicious recipes perfect for every occasion, putting dinner on the table every night of the week will be a breeze.
Over 100 delicious recipes, including new and trusted family and freezer favourites
From light to hearty week-nighters, showstoppers for Saturday nights and roasts for Sundays – and a bonus desserts chapter
15 individual weeks of inspiring meal plans and invaluable shopping lists – choose the perfect combination for your family
Pantry basics, supermarket, shopping and storage tricks so you can buy in bulk and manage your budget
Plan ahead to save time, money … and eat well, every night. No stress!
YOU CAN ORDER YOUR COPY RIGHT NOW  
…..  HERE 
Digital books like iBook & Kindle, Google Play
Or ask any good book store to order it in for you
📖
Our NEW ZEALAND members can purchase the book at:
Whitcoulls,
Paper Plus
Fishpond
Wheelers
The Nile
& Mighty Ape
Or also at your digital booksellers like ebook & Kindle & Google play
UK & US coming to your shelves soon – in the meantime order from online sellers or grab yourself the digital copy while you wait from ebook, Kindle & Google Play
📖
You can purchase all of our existing books 1-7 from me in a discounted bundle HERE ♥️
📖