Submitted by Melissa Hansen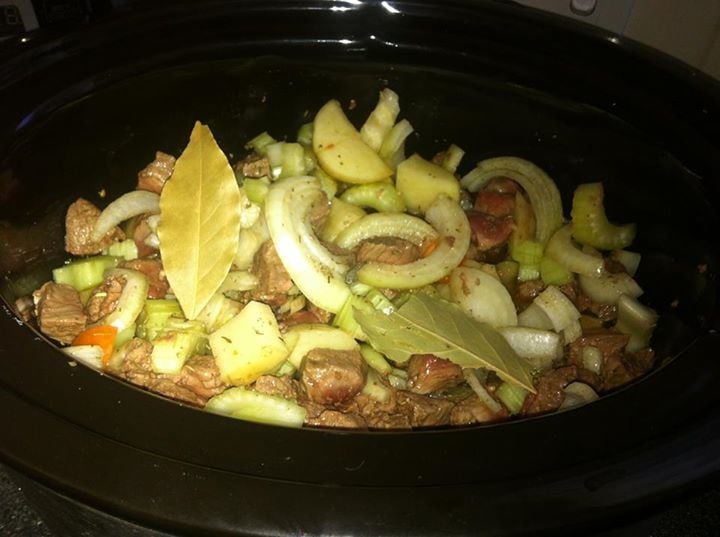 Slow Cooker Beef Stew
Ingredients
-2 lbs stewing beef, trimmed and cut into 1 inch cubes

-1 tbsp olive oil

-2 medium onions, chopped into large pieces

-2 ribs celery, chopped

-4 carrots, peeled and chopped

-6 medium potatoes, cut into cubes (can leave skins on)

-1 28 oz. can whole tomatoes

-1 1/2 tsp Italian seasoning

-3 cups beef broth, divided

-2 bay leaves

-1 c. frozen peas

-1/4 tsp salt

-1/4 tsp black pepper

-1/2 c. all-purpose flour
Instructions
Heat the olive oil in a large skillet over med-high heat and lightly brown the meat in batches. Transfer browned beef to a plate and set aside.

Dump the tomatoes into the slow cooker (juice and all). Crush them with a potato masher or the back of a spoon. Add the onions, celery, carrots and potatoes. Sprinkle the Italian seasoning over the veggies and then add the beef and any accumulated drippings. Pour 2 1/2 cups of the beef broth over the beef and veg. Give the mixture a quick stir. Add the bay leaves. Cover and cook on low for 8-10 hours.

About 20 minutes before serving, add the peas (no need to defrost first), salt and pepper. In a small bowl, whisk together the flour and remaining 1/2 cup of beef broth, creating a smooth paste. Stir into the stew. Replace the lid and cook until thickened (about 15-20 minutes). Remove bay leaves before serving.