Submitted by Paulene Christie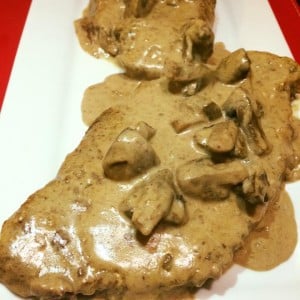 Slow Cooked Steak with Creamy Mushroom Sauce
Ingredients
1kg chuck beef steaks (you could change the steak to rump also if you prefer)

2 tsp beef stock powder

500ml COOKING cream

300g Mushrooms, quartered

2 tbsp cornflour mixed with 1-2 tbsp water to thicken
Instructions
Place steaks into slow cooker

Add chunky quarter cut mushrooms on top of steak

Whisk beef stock into cooking cream and pour over the steak and mushrooms

Cook on low for 5hrs

30mins prior to serving carefully remove steaks onto serving plate (I used 2 egg flips to do so while still keeping them intact),

Combine cornflour and water and whisk into the mushroom sauce

Gently return steaks to the sauce, place tea towel under lid and turn to HIGH for last 30mins to thicken sauce.

Gently lift steaks out onto serving plate and top with lots of the lush creamy mushroom sauce.

The steak is fall apart, melt in your mouth tender... 2 -4 - 6 - 8 dig in don't wait!