Tender juicy roast lamb with the most delicious gravy
Submitted by Jarrah King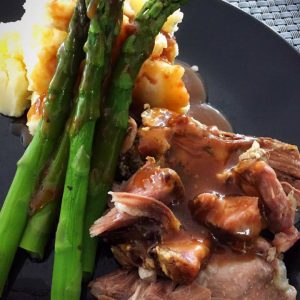 Slow cooked roast lamb with gravy
Tender juicy roast lamb with the most delicious gravy
Ingredients
Lamb leg roast 900g to 1kg (see notes)

2x cups of beef stock

2tsp minced garlic

2x sprigs of thyme or 2 tsp dried thyme

1x sprig of rosemary or 1 tsp of dried Rosemary

1tsp dried parsley

Salt and pepper
Instructions
Place all ingredients into a slow cooker and cook on high for 3 1/2 to 4 hours.

When the lamb meat looks like it's falling off the bone it's ready.

I placed my lamb on a tray and covered it with foil to rest for as long as possible and finished it off in the oven on 180deg for 10 mins to warm it back up and to get the outside of the roast crispy but that is completely optional.

See the notes section on how to use the delicious stock that's left in your slow cooker for a delicious lamb gravy.
Notes
Make sure you check the size of your slow cooker to make sure you purchase a lamb roast that will fit.

The stock left over in the slow cooker makes an amazing gravy, I ladled 2 cups into a saucepan and thickened it with my favourite gravy powder. Roast meat gravox powder has given me the best flavour. I use about 4-5 tablespoons and whisk it really well to help prevent those lumps and then add some salt and pepper to finish it off. As soon as its nice and thick its ready to pour all over your tender roast lamb.