A warm bowl of slow cooked soup – comfort food at it's best
Submitted by Blackwood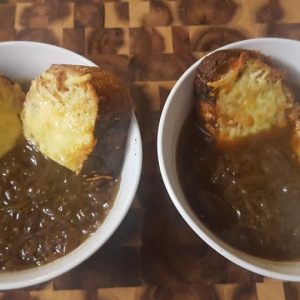 Simple & Easy French Onion Soup
A warm bowl of slow cooked soup - comfort food at it's best
Ingredients
1-1.5kg onions, peeled, sliced,

2 tablespoons unsalted butter, melted

2 tablespoons olive oil

2 teaspoons kosher salt, plus more as needed

Freshly ground black pepper

10 cups reduced-sodium beef broth

2 tablespoons balsamic vinegar

3 tablespoons brandy (optional)
Instructions
Place the onions in a large slow cooker. Stir in the butter, oil, salt, and a generous amount of pepper.

Cover and cook on the LOW setting overnight until the onions should be dark golden-brown and soft, 12 hours or overnight.

Add the broth and vinegar. Stir in the broth and vinegar.

Cover and continue cooking on the LOW setting for 6 to 8 hours. This is flexible; as long as your slow cooker holds moisture well (wrap a towel over the lid if quite a lot of steam escapes), you can cook the soup for hours. Longer cooking will only intensify the flavors. Taste and season with more salt and pepper if needed, and stir in the brandy if using.
Notes
Serve with cheese bread.

When I have made this, the soup has always been just the right consistency. But if yours seems a little thin or watery, you can quickly finish it off on the stovetop by simmering gently in a saucepan for 15 minutes or until the broth has reduced a little.