Submitted by Paulene Christie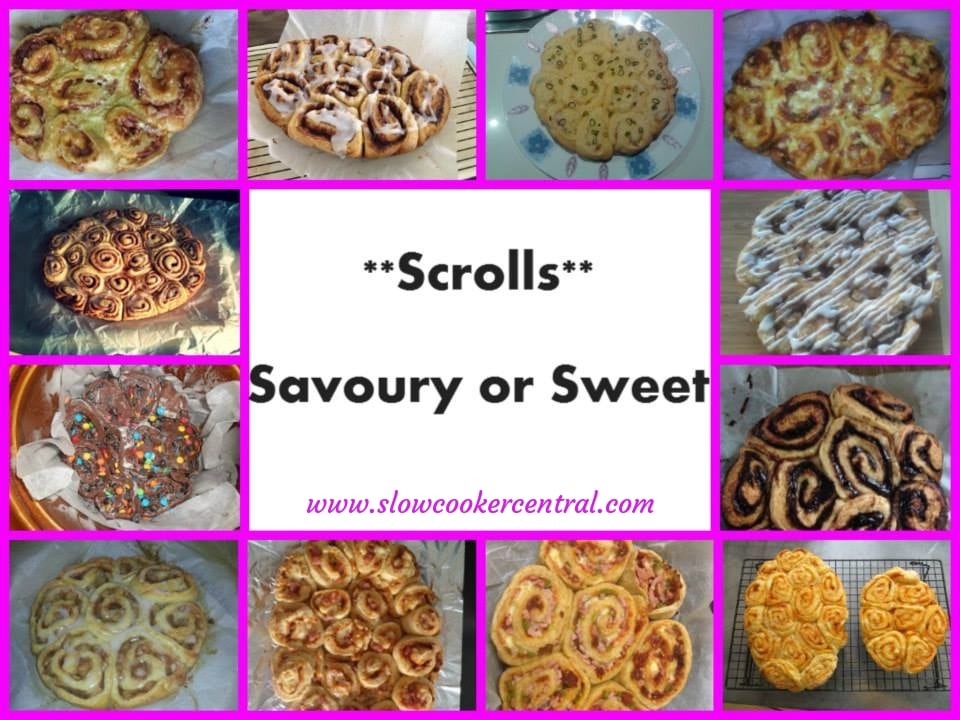 Scrolls
Ingredients
2 cups SR Flour

1/2 teaspoon Salt

75 grams Butter

1/2 to 1 cup Milk
Instructions
Mix ingredients together till until dough just comes together.

Knead on a lightly floured surface until smooth.

Roll dough into a 20 x 30xm rectangle.

Top with the topping of your choice (see below for options)

Roll the topped dough into one big roll

Cut roll into slices (they will look like little snails when cut) and flatten each slice slightly.

Line your slow cooker with baking paper

Lay slices close together.

Cook on high for approx 90 mins with Tea Towel under lid

You can add icing to sweet scrolls which is made with 1/2 cup icing sugar and 1 tablespoon milk.

Pour icing over scrolls while warm or pipe on once cooled.

Option 2 for dough - Cream

2 cups SR flour

2 tsp sugar

1 1/4 cups cream

Option 3 for dough - Yoghurt

2 cups SR flour

1 cup Greek yoghurt

Topping examples -

Cinnamon Scroll: Brush dough with 1 T melted butter. Mix 2 T brown sugar with 2 t cinnamon sugar and sprinkle over butter.

Apple & Cinamon: As above but also add stewed apple.

Cheesy-mite: Spread dough with vegemite and top with generous amounts of cheese

Pizza style: Spread with pizza sauce and top with pizza topping of your choice

There are so many variations you can make, both sweet and savoury as you can see from the photo.

Your only limitation is your imagination!