Submitted by Karen Stuckings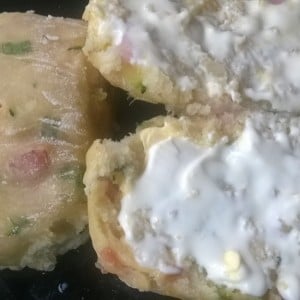 Savoury Scones
Ingredients
3 cups self raising flour (400grams) plus extra for flouring board

½ teaspoon salt

Cayenne Pepper (pinch or two, I use two but this is to your taste)

½ cup grated cheese (I used mozzarella but can use other if prefer)

½ cup grated zucchini

3 pieces shortcut bacon chopped (if using other bacon fry off fat and allow to cool before adding)

1 chopped shallot

1 cup milk (little more if needed)

Sour cream or butter for serving
Instructions
Sift flour then add rest of ingredients apart from milk and mix using a knife. Slowly add milk until a soft dough is formed still using knife.

Place on floured board and knead 3 times only. Using a floured rolling pin roll out to 1 inch thick. Cut into squares.

Place in a lined sc with tea towel under lid, I like to leave a small gap between them to allow heat to come through between them to cook more evenly. They will still join but I have found having the gap at the beginning works better for me.

Cook for 1 hours on high or until cooked. Serve warm or cold with butter or sour cream or both.