I have made this soup with and without roasting the cauliflower to see how much of a difference it made and oh my goodness roasting it just gives it another depth of flavour it really makes the soup so much tastier! This soup is so creamy you would not know it doesn't contain a single drop of cream so its suitable for vegans and vegetarians.
Top with garlic croutons and a sprinkle of cheese or if your dairy/gluten free some seeds toasted in a little fry pan with olive oil, garlic, thyme, paprika and rosemary is absolutely delicious and it give the soup a little added texture/crunch.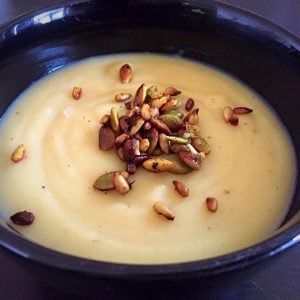 Roasted Cauliflower Soup
Rich, creamy and delicious !
Ingredients
1x cauliflower

3x potatoes

1x leek

2 tsp garlic

1tbs butter (use nuttlex to keep this soup dairy free the buttery one is best)

1 tsp thyme

1 tsp parley

5-6 cups stock (you can use vegetable or chicken both work well)

Season with Salt and Pepper
Instructions
Preheat oven to 180deg

Cut cauliflower into florets and place on a baking tray drizzle with olive oil and season with salt and pepper and roast for 15-20 mins

When the cauliflower has finished roasting place into your slow cooker.

I like to give the leeks a little sautéing in a fry pan with a 1 tsp of butter but that is in optional. Add all the ingredients into your slow cooker and then cook on low for 4-6 hours. When your soup is ready blend and season with salt and pepper.