Summited by Paulene Christie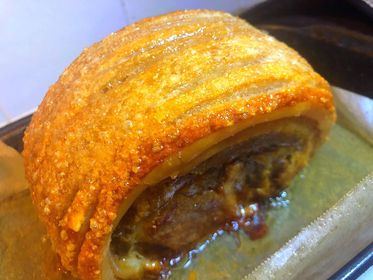 Roast Pork + AMAZING PORK CRACKLE
Ingredients
1-2kg roast pork cut of any kind you prefer with the rind/crackle attached

Pourable, fine, table salt

2T oil
Instructions
Remove any netting from your roast pork and place pork directly into slow cooker. It's ok to leave simple string on the roast but not the complex net that some have around them – it's much easier to remove this netting now then at the end when it's hot and takes all your crackle with it.

You don't need to prep the pork in any other way. Straight in to the slow cooker nothing else added.

Cook on LOW for 8-9hrs. 8hrs for 1-1.5kg, 9hrs for 2kg

In the final 15mins of cooking time pre heat your oven to 220 degree Celcius

Carefully remove your pork and place it on a rimmed oven tray

Remove any string that remains at this point

GENEROUSLY salt all over the crackle area with the salt. Don't miss any spots. Don't be sparing on the salt as it's important to cover it well. Rub in this salt into the scores of the rind and into it all over the rind area (not on the meat only on the rind) with your fingers. Note it's hot but not usually so hot that you can't touch this rind.

Then sprinkle oil over this salted rind. Again use your fingers to rub it in really well over all the rind.

Then salt a second time over the now oily rind, but only lighter this time, covering all the rind area in a light salt sprinkling - but this time do not rub it in.

Place pork in the extra hot oven for approximately 20-30mins, MAKE SURE checking it every so often to make sure it doesn't burn.

Your crackle is done when it's bubbled and hard/crisp to the tap all over.

Remove carefully from oven and cut off crackle – it will usually come away in one piece. Cut or break into strips to serve.

Slice pork and serve with your favourite roast vegetables and lashings of gravy.
Notes
I cook my roast vegetables either in another slow cooker or in the oven in the hour or so before the pork is finished cooking then remove them from the oven and keep them warm in their tray covered with foil and a tea towel during the crackle process as the high temps needed for the crackle would otherwise burn the vegetables. You can always add them back in for the final 5mins to make sure they are all piping hot again ?

We also like to serve with peas and also gravy made with a dash of the cooking juices added to the boiling water and instant gravy mix

If you salt and oil heavily and cover every surface of that crackle then be sure your oven is that super hot level you can't go wrong. Everyone will be talking about your crackle from that night on!

If you have areas that don't crackle you've missed them with the salt and oil or didn't add enough in those spots or your oven isn't on super hot - all these things are easy for you to fix next time until you master it 🙂