Submitted by Paulene Christie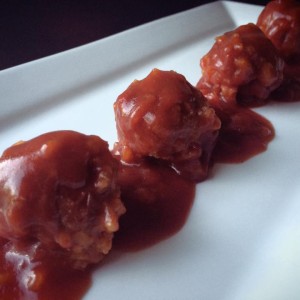 Porcupines in BBQ Sauce
Ingredients
500g lean minced beef

1/2 cup raw long grain white rice

1 large grated onion

Salt and Pepper

1-2 cloves minced garlic to taste

Flour to dust

400g can of diced/crushed tomatoes

420g can cream of tomato soup concentrate

1/2 cup BBQ sauce

1 tbsp packed brown sugar
Instructions
Combine mince, rice, onion, salt, pepper and garlic in a large bowl.

With clean hands, combine mix well and form into approximately golf ball sized balls.

Roll each ball lightly in plain flour to coat and place gently in bottom of slow cooker in single layer.

Combine tomatoes, soup, sauce and sugar and mix well. Pour gently over the meatballs in the slow cooker.

Cover and cook on low for approx 6hrs.

Lovely served with penne pasta and fresh vegetables.