Submitted by Steve Mould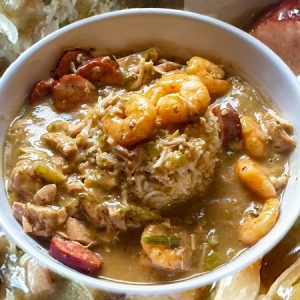 New Orleans Style Gumbo
Ingredients
Dry Roux
1. 1 Cup of Plain Flour.

2. 2 Cups of Chicken Stock.
Gumbo
1. 1 Cup of Water plus 3 Cups of Chicken Stock.

2. 1 Kg skinless Chicken Thigh Meat.

3. 1 Cup (250g) Chorizo Sausage cut into coins. (Mild or Hot to taste. Any smoked sausage will work)

4. 1 Cup (250g) Crab Legs or Meat. (Optional – Change for more Prawns if you like.)

5. 2 Cups (500g) Peeled Raw Prawns. (Medium is good but you can use any size).

6. 2 Stalks of Celery. (Large dice)

7. 3 Spring Onion Shoots (Large Dice).

8. 1 Medium to Large white onion. (Large Dice).

9. 1 Medium to Large green Capsicum. (Large Dice).

10. 3 tsp Minced Garlic (or 3 cloves minced).

11. 1 tsp Cajun Seasoning. (Can up this Seasoning and/or add Cayenne Pepper to taste). (optional)

12. 1 tsp Thyme.

13. 1 Tbl Parsley

14. 2 Bay Leaves.

15. 3 Tbl Arrowroot powder.

16. 1 tsp Smoked Paprika.

17. 1 tsp Black Pepper.

18. 2 tsp Salt.

19. 1 tsp White Vinegar.
Instructions
Create a Dry Roux
1. Preheat Oven to 200c-400F.

2. Place 1 Cup of Flour in a Oven proof Pan and stir. Make sure its broken up and even in the Pan.

3. Place the Pan in the Pre-Heated Oven to cook for about 45 min to 55 min, Stirring Occasionally. (Be careful keep an eye on it, checking frequently)

4. The Flour will be cooked when it is the colour of light Chocolate. NOTE: If you burn the Roux, throw it out and start again.

5. Once Cooked, put the cooked Flour in a mixing bowl until cooled and add 2 Cups of Chicken Stock. Stir until well mixed and put aside.
Cooking the Gumbo
1. Lay the Chicken pieces on the bottom of the Slow Cooker.

2. Add the Sausage evenly over the Chicken.

3. Add the Bay Leaves, the diced Onion, Capsicum, 1/3 of the Spring Onion and Celery to your Slow Cooker.

4. Add the prepared Roux to the Slow cooker.

5. Mix together 3 Cups of Chicken Stock, Water, Thyme, Parsley, Salt, Pepper, Minced Garlic, White Vinegar, Cajun Seasoning and add to the Slow Cooker.

6. Cook for 3 hours on High.

7. Test a piece of Chicken to see if it is cooked enough to shred. If not, cook a bit longer.

8. Remove Chicken and Bay Leaves. Shred or cube the Chicken Meat and return to Cooker.

9. Make a slurry utilising the Arrowroot and a little water and add to the Cooker.

10. Add Seafood and rest of the Spring Onion and cook until seafood is just cooked (about 20 minutes) and the liquid is a thickish soup. (Not too thick)

11. Serve over Boiled Rice.. Potato Salad is optional.
Notes
This is adapted from an original New Orleans Gumbo Recipe that I have cooked. It is delicious.

Every household has their own version, so feel free to be inventive. Although Preparation time heavy, the actual Cooking is easy.

You can make it as Spicy as you like but this Recipe, although it has a little spice, is enjoyed by my whole Family.

The Main Check Points for this Recipe are...

1. Make sure the Roux is a well cooked. The Roux adds a nutty flavour to the meal.

2. When checking the Chicken at the 3 hour mark, it should be only just shreddable. It has about another 20 minutes of cooking to go after shredded.

3. The meal is cooked when the Prawns/Seafood is just cooked.

4. If still too runny at completion, add more arrowroot slurry just to complete. (Cornflour is OK but Arrowroot is cleaner)