Makes around 30 to 35 meduim size pies.
And around 3 large family pies
Submitted by Jennifer Bennett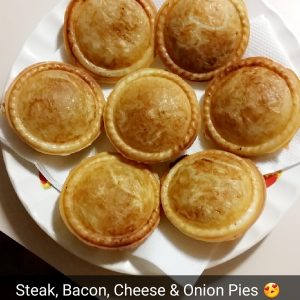 Mumma's Steak Bacon Cheese & Onion Pies
Makes around 30 to 35 meduim size pies. And around 3 large family pies
Ingredients
800grams of steak (any steaks fine), diced

1x kilo of Mince

2 to 3 x Large Onions (depends on how much you like), diced

14 x slices of short cut bacon, diced or a good couple handfuls of shredded bacon

1 Liter of Beef stock

2x cloves of garlic

6 tablespoons of gravy mix

1 packet of grated tasty cheese

Salt and pepper to taste

Table spoon of parsley flakes

Teaspoon of mixed herbs

2x packet of savory mince

Tablespoon of Worcestershire sauce

6 table spoons of bbq sauce

1 tablespoon of curry powder

6 mushrooms diced

2x packets of pastry

2 x egg for a egg wash
Instructions
Place steak, mince, onion and bacon into the slow cooker and combine.

Mix the herbs, curry powder, sauces, garlic and mushrooms together and 600ml of the beef stock (everything expect the cheese) and pour over the mix in the slow cooker.

Reserve the remaining beef stock and only add more if needed as you cook.

Give a stir place the lid on and cook on low for around 6 to 8 hours varies depending on your cooker. But 6 is what mine took.

Continue to stir occasionally.

Once the pie filling is complete

Make circles ready for a pie maker and place in the filling in to the pastry, the top with cheese and then place the lid of the pie on top and brush some egg wash on to pastry and cook pie until pastry is ready.

If making family pies : Line the pie trays with pastry, place filling in top with cheese then place lid on pie, brush with egg wash on top bake until pastry is golden brown on 180 degrees. Top with tomato sauce and serve.