A Mexican twist on the regular tomato beef porcupines. Mexican chicken porcupine meatballs! Would be great served on subs too – great party food 🙂
Submitted by Paulene Christie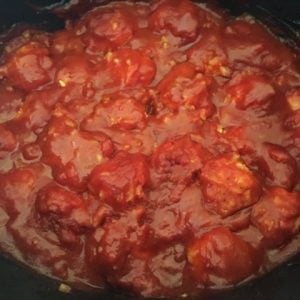 Mexican Chicken Porcupines
A Mexican twist on the regular tomato beef porcupines. Mexican chicken porcupine meatballs! Would be great served on subs too - great party food 🙂
Ingredients
500g chicken mince

1/2 cup raw, long grain white rice

1 large onion, grated

Salt and Pepper (1/2 tsp of each)

1Tbslp minced garlic

Flour to dust meatballs (1/2 cup approx)

1 x 400g can of crushed tomatoes

2 x 420g cans cream of tomato soup concentrate

2 x 35g sachets of taco seasoning mix
Instructions
Combine chicken mince, rice, onion, salt, pepper and garlic in a large bowl.

Take 1 tablespoon of taco seasoning mix from one of the packets and add this to the meatball mix.

With clean hands, combine mix well and form into small, approximately golf ball sized balls.

Roll each completed ball lightly in plain flour to coat and place aside for now on a plate

Combine crushed tomatoes, soups, and the remaining 1 and part packets of taco seasoning and mix well.

Pour this sauce mix into the slow cooker.

Gently drop meatballs one at a time into the sauce in a single layer.

Cover and cook on low for 5hrs

Resist stirring at all until at least half way through cooking to be sure they are firm so they don't break apart. In reality though you only need to gently move them around in the sauce perhaps two times in total during cooking if at all.
Notes
Serve with mashed potato and vegetables or another great alternative is as meatball subs on hotdog rolls for an easy family meal or picnic lunch